🎧 Octave is our headphones, specially designed to accompany your children on journeys by car, train, or plane, to immerse themselves completely in their story.
The headphones are foldable to take up as little space as possible on the move, the cord is removable and has a double 3.5mm M/M jack so you can plug in another pair of headphones and share the same story with another pair of ears.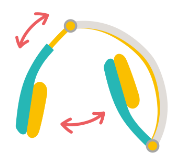 Lunii's headphones volume is limited to 85 dB to protect your children's hearing (maximum level allowed by the regulations in force).
It is suitable for the youngest, from 3 years old.