📱 To get started, you'll need to download the free Lunii mobile app, available on the App Store and Google Play, onto your smartphone and create a Lunii account (or log in if you already have one).


Once you've downloaded the mobile app and created your account, you can manage your Wi-Fi Storyteller Lunii-3 model [Wi-Fi connection] from A to Z from your phone 🤗
To do this, you'll need to link your Wi-Fi Storyteller to your account once via the Lunii mobile app. This will take about 10 minutes.
Rest assured: you'll be guided through the entire process directly from the mobile app 😇
Please note that during association, you must not close or exit the application (it must remain in the foreground). Also, your smartphone must be sufficiently charged so it doesn't switch off during association 🪫
✨ How can I link My Wi-Fi Storyteller to my account on the mobile application?
On video 📹
Or step by step

🔤
Start by checking that your Storyteller is sufficiently charged (if necessary, plug it into a power outlet). And for the time being, keep it switched off.
Login to your Lunii account on the mobile application 📱
1. Let's get started! Once logged in, click on "Link My Storyteller" or go to "Devices" and click on the "+" at the top right of the application.
2. Scan the QR code (located below the Storyteller) with your smartphone, then once the Storyteller has been identified, click on "Continue". If you can't read the QR code, please read this article 💡
3. Choose Wi-Fi association
4. Choose your included audiobook (from age 3 or from age 5). Please note that you can only choose one, and it will not be possible to change your mind later ⚠️).
5. Choose the avatar that will be displayed on your Wi-Fi Storyteller each time you switch it on.
6. Give your Storyteller a name (don't worry, you can rename it later if you wish).
7. Make sure you're near your Internet box, and get ready to enter your box's name and password.
8. Switch on your Storyteller. The following logo should now appear on the Storyteller's screen:

9. Click on "Continue" and then on "Join" to agree to join the Lunii network (this authorization is mandatory for the connection to work).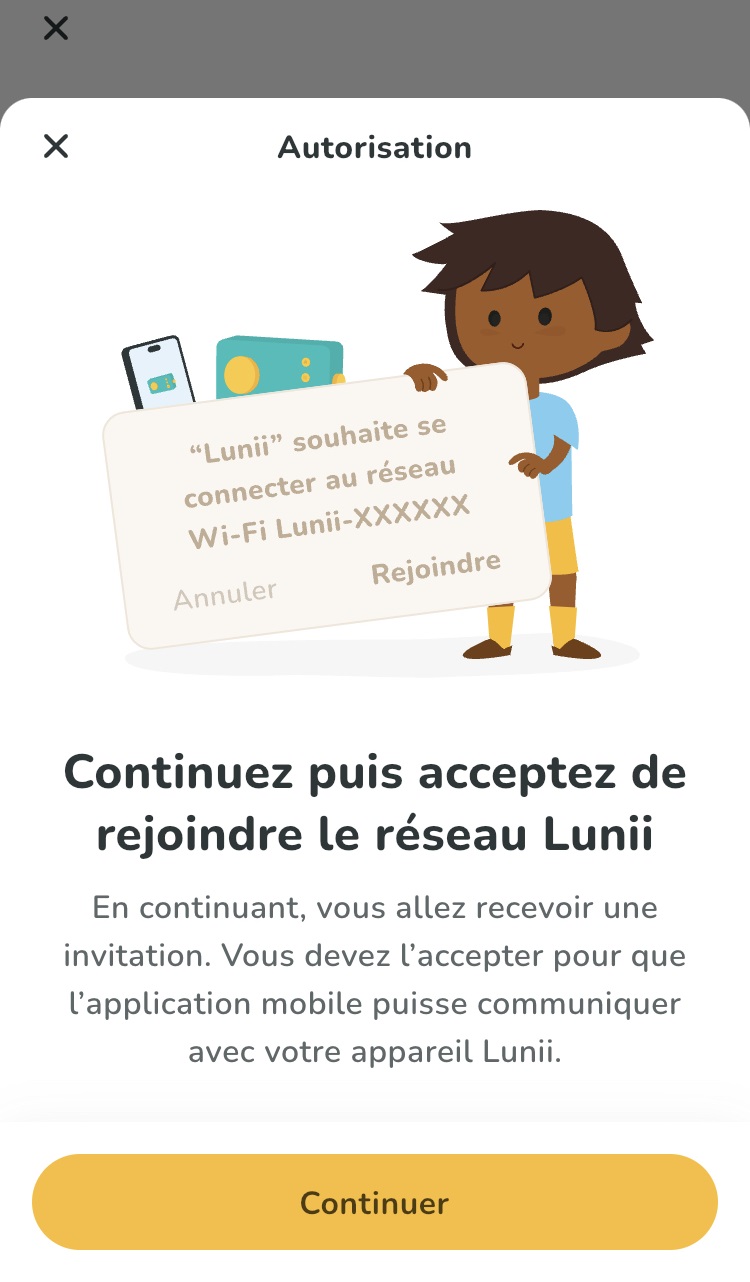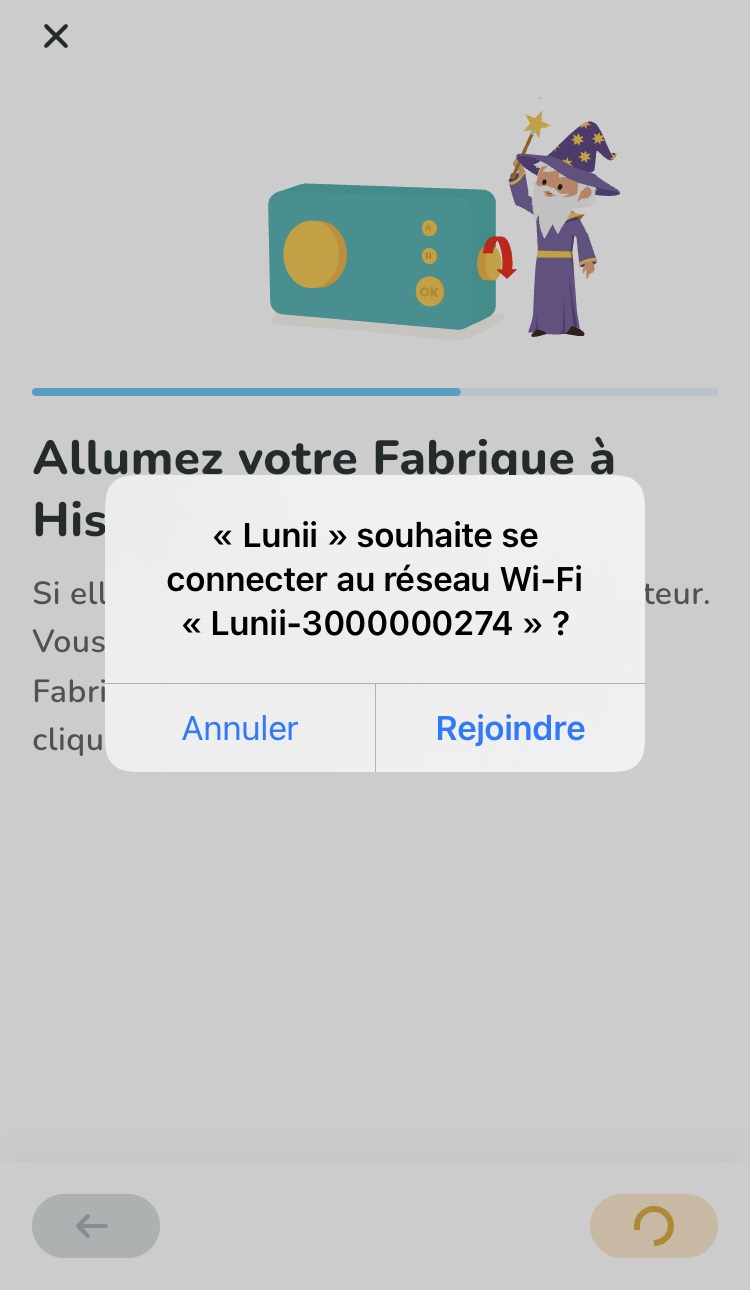 The logo below should now appear on the Storyteller's screen. It indicates that your Storyteller is now associated with your account:

10. Now you need to teach your Storyteller how to connect to the Internet 👩‍🎓 To do this, select the home Wi-Fi network you wish to connect to, then enter the password for your Wi-Fi network (the password can be found under your Internet box, or in the installation manual supplied with your Internet box, or it can be accessed directly from the box's settings if it has a screen and buttons for navigating).
If the connection doesn't work, please consult this FAQ article.
11. Congratulations! Your Storyteller is now linked to your account 🥳🎉
Once your Storyteller has been associated with your account and connected to the Wi-Fi network, you can choose the audiobooks you'd like to transfer to it, then press the OK button on your Storyteller for 3 seconds to synchronize the content ✌️
Your Fabulous Storyteller is now ready to make your child dream and develop his or her imagination 💙