Contents :
Which is the battery autonomy of My Fabulous Storyteller?
Several factors can affect the battery life of My Fabulous Storyteller. These include occasional or continuous listening, listening via speaker or headphones, sound volume, keeping the device in stand-by, etc.
After fully recharging your Fabulous Storyteller (it takes around two hours to charge fully), and depending on the conditions of use, your child will be able to enjoy the device for an average of 6 hours.
How and for how long do I need to recharge My Fabulous Storyteller?
You can recharge My Fabulous Storyteller using the USB cable supplied with the original box. You can either use a USB power adapter on a power outlet (standard USB charger. 5V - 0.5A min) or plug it into a USB port on your computer (which must be switched on, not in standby mode).
Once plugged in, the LED above the USB port of the Fabulous Storyteller lights up (in red): this means that the device is charging. When the LED turns green, your Fabulous Storyteller is charged.
👉 It is strongly recommended to turn off the Storyteller when recharging it 👈
Please note that if you charge your device while leaving it on or when it is in standby mode (sound wheel in ON position), it is normal that the LED does not switch to green and remains red. However, this does not mean that your device is not fully charged.
It takes about two hours to recharge the battery to 80%, and three hours to charge it completely. It is not recommended to recharge the device for more than 6 hours.
You can recharge My Fabulous Storyteller with any compatible USB cable. However, to transfer stories from the Luniistore to My Fabulous Storyteller, it is necessary to use the original USB cable. This cable enables data transfer and is not restricted to the recharging of the device (USB cables are generally limited to the recharging function of the devices!).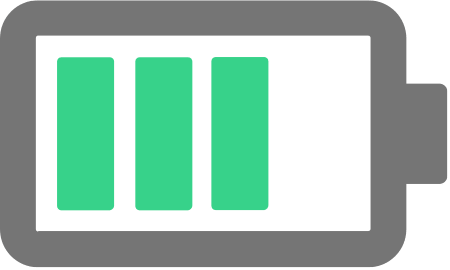 How can I extend the battery life of My Fabulous Storyteller?
The Storyteller is charged by USB (5 Volts DC).
We do not recommend the use of a "fast charge" charger adapter (9 Volts or more DC). This type of charging may reduce the performance of the battery.
All rechargeable batteries have a limited lifespan: over time, their capacity and performance diminish, and it is eventually necessary to replace them.
💡Thanks to Li-ion technology, our batteries charge faster and last longer. The result: increased battery life in a lighter package.
N.B.: Battery aging can contribute to changes in the performance of My Fabulous Storyteller.
A battery's lifespan is related to multiple factors, such as the number of charge cycles and how it was cared for.
Some tips:
Keep your Fabulous Storyteller half or fully charged when it is stored for an extended period of time.
Also, avoid charging your Fabulous Storyteller in a hot environment, exposing it to high temperatures, or leaving it in the sun for an extended period of time.
🚨 Batteries cannot be replaced 🚨
If the aging of your battery affects the performance of your device, and if you seek assistance with a battery replacement, please contact us to learn more about available service options. Battery handling should only be carried out by Lunii SAS: do not attempt to replace the battery yourself.