This article is only about My Fabulous Storyteller Lunii-1 and Lunii-2 models.
❔ To identify the model of your Storyteller, we invite you to consult this article of our FAQ.
👉 If you own a Storyteller Lunii-3 model [Wi-Fi connection], formatting via a computer is not recommended. You can reset your Storyteller Lunii-3 model by following the instructions in this FAQ article.
Why format?
This makes it possible to erase the data that the Storyteller contains in order to get a fresh start.
Rest assured 😎 All audio stories you have purchased remain in your Luniistore library. They cannot be removed without action on your part.
It is possible to format My Fabulous Storyteller in the following cases: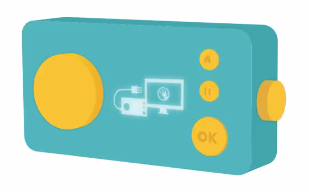 What is essential to format?
All you have to do is connect the Storyteller to a computer and make sure it is detected as a USB key (if this is not the case, check that the USB cable used allows data transfer and not simply charging).
💡To find out if the device is detected by the computer as a USB flash drive, go to Devices and Printers on your PC, or Finder on your Mac
How do I format my Storyteller?
First step: your Storyteller is properly connected to your computer and turned on.
Rest assured, once the formatting is done, you can transfer the audiobooks from your library to your Storyteller again 😊



My
operating
system
is
Windows
To format My Fabulous Storyteller in
Windows

, leave the device connected to the computer and proceed as follows:
Type "Computer Management" into the Windows 🔎 search bar (i.e. the search box at the bottom left of your screen)
Double-click on "Storage" then on "Disk Management"
Right-click on the reader corresponding to the Storyteller and choose "Format..."
Do not hesitate to turn the device off and on again to identify it more easily, the corresponding line will appear and disappear. Choose "FAT32" and validate with OK.
Once the SD card has been formatted, turn off the Storyteller for at least 5 seconds, turn it back on and reopen the Luniistore.

💡 To be sure that you are formatting the right device, do not hesitate to turn your Storyteller off and on several times in a row and to detect the drive that disappears and appears.

My
operating
system
is
macOS
To format My Fabulous Storyteller on
Mac

, leave the device connected to the computer and follow the instructions below:
Select Disk Utility from the Launchpad
Select the disk corresponding to your Storyteller
Select Mount at the top right
Select MS-DOS (FAT) in Format
Enter LUNII for the Name and click Erase
Formatting is complete, confirm with OK
Select LUNII then click on Unmount at the top right
Turn off your Storyteller for at least 5 seconds, then turn it back on to initialize.

My
operating
system
is
Linux
To format My Story Factory on
Linux

, it all depends on your distribution:
As an example on Linux Mint, in the file explorer, you have to right-click and then click on format on the LUNII device.
The format to choose is FAT32
After formatting, turn off your Storyteller for at least 5 seconds and turn it back on, for it to boot.